Oktoberfest 2020 in Munich, Germany: What You Need to Know
Update: Oktoberfest 2020 has been officially cancelled due to the global health emergency. Instead, head over to the Oktoberfest 2021 page–it's never too early to start planning.
We've got Oktoberfest 20/20 vision over here and you know what that means? It means we can already see what a kickass time Oktoberfest 2020 is going to be. And how can we be so sure? Because Oktoberfest in Munich, Germany only gets better and better the older it gets–like whiskey and that pair of broken-in jeans you're drinking it in. Oktoberfest 2020, you don't look a day over 200.
But don't take our word for it: each year almost 7 million people discover this for themselves. Those 7 million people consume 7 million litres of beer (each! okay, kidding) and if that isn't the sign of a good time, we don't know what is. Hopefully you're one of them but if not, be sure to add Oktoberfest 2020 to your to-do list. Go ahead, put it in there between "buy underwear" and "take out trash".
When is Oktoberfest 2020?
Nope, not in October–keep guessing!
Okay, we'll help: Oktoberfest 2020 will commence at noon on Saturday 19th September and end on Sunday 4th October, 2020. Each year Oktoberfest begins in September (surprise!) and ends on the first Sunday of October, however there are some exceptions. Check out the list of Oktoberfest dates and key days to attend the festival here.
Planning for the 2020 festival
It's never too early to start planning for a trip to Oktoberfest — especially when September 2020 is so damn close! So pour yourself a cold one and let's get started…
Join the Oktoberfest Travel group on Facebook for updates on Oktoberfest 2020. ⇣⇣⇣
When to Attend 2020 Oktoberfest
So when should you attend Oktoberfest 2020? That's a great question and the best part is that it's all up to you! (Should you seek help when working on your dance moves though? Absolutely. We know what you did last summer.) Here are a couple of things to consider when deciding on when to attend Oktoberfest 2020.
AT THE BEGINNING VS AT THE END | Two awesome Oktoberfest 2020 events you should consider attending are the opening ceremony and the closing ceremony. (However we recommend both and every day in between. *shrug*) Both of these ceremonies are truly unique, attend-worthy, and equally tough to get into to (plan ahead, people!). The Oktoberfest opening ceremony takes place in the Schottenhamel tent and marks the official beginning of the fest' when the Lord Mayor of Munich taps the first keg and shouts, "O'Zapft Is!" — That's German for, "It's tapped, yo!" The Oktoberfestivities have officially begun, prost!
On the last night of the festival in the famous Hacker-Pschorr tent, the Oktoberfest closing ceremony takes place in an intimate, candle-lit setting featuring your 10,000 newest besties. The sparklers are lit, the lights are dimmed, and everyone sings together in unison. *Sigh* Finally, world peace…
WEEKDAYS VS WEEKENDS | With the exception of Oktoberfest's opening and closing days, Fridays and weekends are the busiest times on the Wiesn because obviously. However, if this is all your schedule allows, we recommend showing up at the crack of dawn and planting your crack on a beer tent bench as long as you can stand it.
During the week, and especially during the day during the week, is going to be the easiest time to find a seat, eat some meat, and drink a… beer.
SPECIAL EVENTS | Oktoberfest 2020 will feature all of Oktoberfest's signature events, parades, family days, traditional concerts, and us, boogie-ing on benches. Classic. To get an idea of all the special events you can expect at Oktoberfest 2020, check out this schedule of (really awesome) events.
What to Budget for Oktoberfest 2020
What you should budget for Oktoberfest 2020 is largely based on how much you can consume but–good news!–getting into the festival and the beer tents is totally, completely, 100% free. However… that's only so much fun–we don't know anyone who goes to Oktoberfest to sit around with two empty hands.
And here's where the EURO start flying, rap video style. To give you a better idea, a litre of beer at Oktoberfest costs around 11 euros (before tip), give or take some coinage depending on which tent you're in. Official Oktoberfest 2020 beer prices will be announced here in June.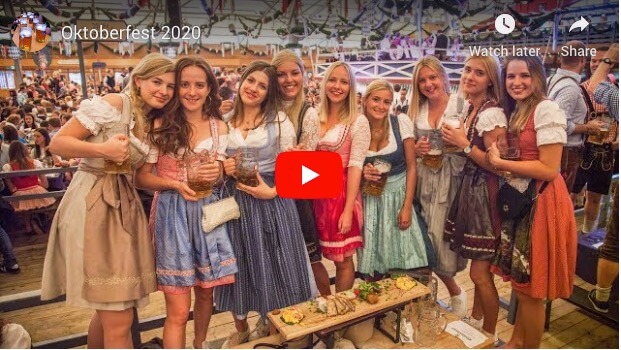 Sadly, a litre of water or whatever other non-alcoholic beverage you want (you feeling okay?) costs almost as much. The sad part being that there are people at Oktoberfest drinking non-alcoholic beverages.
When budgeting for Oktoberfest 2020, there isn't a defined, recommended amount of cash to bring since everyone's appetites (and tolerance levels) can be quite different. We recommend several trial runs at your local German beer garden. However much you decide to bring, make sure it's all in cash.
For Oktoberfest 2020 you'll also need to budget for:
Oktoberfest Food – Each tent offers their own menu options with their own prices but you can expect to spend between 7€ – 22€ on a meal with a standard ½ chicken being around 11€ (though, let's face it, those things are priceless).
Entertainment – If you're the kind of daredevil who thinks carnival rides at beer festivals is a fun thing, you may need to budget for entertainment as well. The rides will cost you only a few euros per ride but possibly a little more in dignity.
What to Wear for Oktoberfest 2020
For Oktoberfest 2020 (and every other Oktoberfest celebration, to be exact) traditional Bavarian garb is what you should be wearing. It's all the rage, promise. For the ladies (and occasional dude, no judgment) that means DIRNDL — white blouse, knee-length (or longer) dress, apron, and comfortable shoes that are okay to get a little dirty. If dresses aren't your thing you'll want to snag a pair of traditional Bavarian LEDERHOSEN–white or checked button-up shirt, those weird half socks that just cover the calf, some comfortable loafers, and top it all off with an Alpine hat, feathers and fabulous wild boar gamsbart sexy but optional. Prost to the hat with the most!
There's a good bit more that goes into properly dressing for Oktoberfest (accessories, hair, cleavage, the unwritten social rules, and YES IT MATTERS HOW YOU TIE YOUR APRON BOW.) so click on that link and worry no more.
How to Get to Oktoberfest in Munich
Well not by driving, obviously. Seriously, don't even attempt it. There is literally no parking and how would you even find your way home after [insert # of litres] litres? The Theresienwiese (where Oktoberfest 2020 will be held just as the last 209 years) is just a 10-minute walk (you should be able to handle that) from the Hauptbahnhof, Munich's main train station, and even less from the U-bahn's Theresienwiese stop. And if your legs just simply aren't functioning at all, calling a cab is always an option. Maybe have someone else dial for you? Just a thought.
Check out the Where is Oktoberfest page for a handy, interactive map.
What Will the Weather Be like during Oktoberfest?
If we knew that we'd be out playing the lottery somewhere, now wouldn't we? But as far as weather goes, you can never be sure. Some years it's warm and sunny (just like the interior of the Hacker-Pschorr tent intended), some years it's chilly, and even others it may be raining. In the meantime, you can check out this page to get a better idea of Munich's annual temperature and precipitation averages during the fall months.
FAOQs – Frequently Asked Oktoberfest Questions
Do I need a reservation for the beer tents? Not technically, but it couldn't hurt. Lucky for you, beer tent reservations are our specialty! Attending Oktoberfest 2020 during the day, during the week, you shouldn't have a problem finding a place for your rear to get a beer. Nights and weekends may be more challenging but we believe in you!
Where are restrooms located? The larger beer tents have restrooms all their own with loads of stalls and rarely a long wait. Outside the beer tents in the park you can follow giant Cupid's arrow to the nearest restroom. Hey, it's weird but it works.
What are the dancing rules? Rule #1: Dance on benches, never on tables. Rule #2: Shake what ya mama gave ya! Rule #3: Don't blame us when you go viral.
Can I smoke in the beer tents? Nope! They enforce a strict no smoking policy inside the beer tents at Oktoberfest but each tent typically has its own designated smoking area (on the outside of the tent).
Will I get fined/arrested/publicly shamed if I try to steal a stein from a beer tent? You can bet your buns on it!
There's no time like the present to start planning for Munich's Oktoberfest. It's the beer festival all other beer festivals wish they were so be sure to check out our Oktoberfest 2020 tours and packages for the time of your life. Prost!