Each year on April 23rd the world finds itself face-to-face with one of the most important days of the year: German Beer Day. (And you thought National Eat Ice Cream for Breakfast Day was the best excuse to get out of bed, pshh!)
German Beer Day
For some of us (ahem, guiltyyyyyy), every day is German Beer Day. And for the rest of you, IT DAMN WELL SHOULD BE. You have to admit, German beer is something worth celebrating—a lot more than your coworker's cat's birthday at least, and just look how easily you got roped into that.
The lagers, the dunkels, the hefeweizens and starkbiers. The helles and bocks and marzens, oh my! Remember all those times they held you when you were down? And that time they helped you recover from a weekend with your in-laws? Or how they help celebrate your birthday year after year? Guys, it's time to give back. Do the right thing.
So in case you needed another excuse to drink beer today (but can we ever have too many?), check out these four reasons to celebrate German Beer Day. And Prost!
1. To honor the Reinheitsgebot
The Reinheitsgebot, for starters, is the reason for the season after all. Not just some random date, German Beer Day falls on April 23rd each year because that's the date the famous Reinheitsgebot went into effect: April 23rd, 1516.
But wait, what's the Reinheitsgebot? You mean you don't know? The Reinheitsgebot is Germany's beer purity law. It's the law (yes, THE LAW) that mandates beer in Germany only be brewed with four ingredients: water, hops, malt, and yeast. It's what keeps German beer so freaking delicious after all this time.
This beer law (I love saying that) has been in effect for over 500 years and that, my friends, is something to celebrate.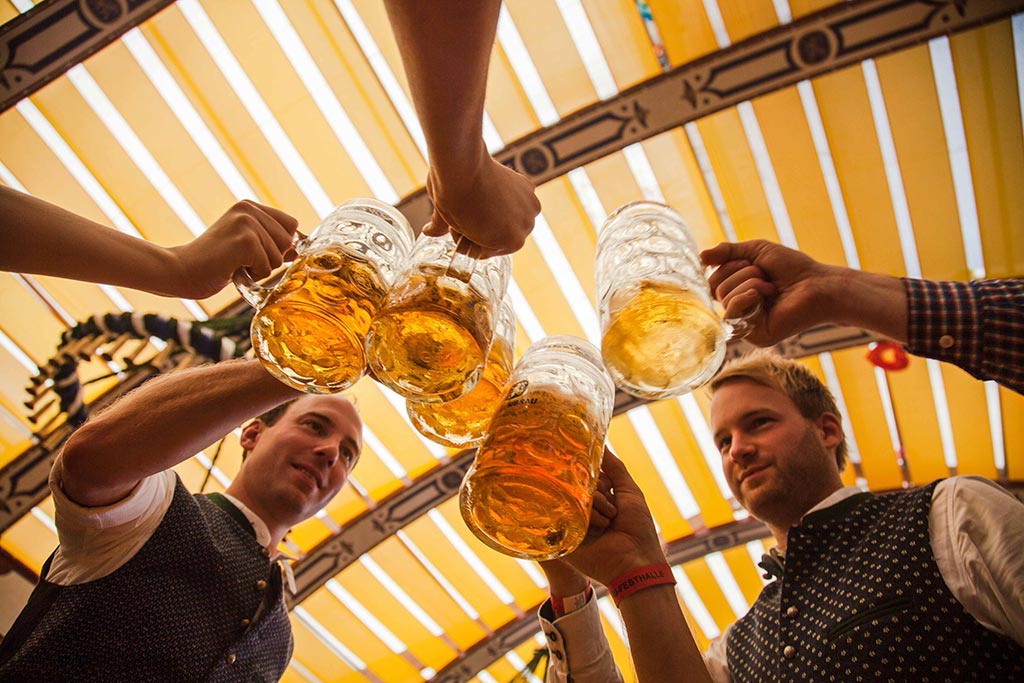 2. Because German beer is superior
Yes, it has a lot to do with the Reinheitsgebot (no avocado hibiscus pilsners here, pal). Because there's a beer purity law, German beers stick to what works, what is pure, and what is devoid of all hipster trends.
Besides that, beer is just part of the everyday German way of life. It's consumed with breakfast and by the litre. They host festivals around it and the best of it is made by monks. You can drink nothing but German beer and still be as healthy as a horse. You can even mix it with lemonade and it will still kick any other beer's ass. German beer makes wearing lederhosen cool.
3. To pay tribute to some of the world's oldest breweries
While beer itself dates back to a respectable 5,000 BC, the majority of actual breweries are still in the zygote stage of their life cycle. Except when it comes to German breweries that is.
Some of the oldest breweries in the world call Germany home. For instance…
Weihenstephan
The world's oldest. The Benedictine Weihenstephan Abbey in Freising, Germany (just north of Munich) was founded in the year 725 and its brewery—that still operates today—was established in 1040. Can your Budweiser say that? Go get yourself a Weihenstephaner Hefe Weissbier to celebrate—it's available worldwide.
Augustiner
An Oktoberfest favorite. Augustiner-Bräu was founded in 1328 in Munich, Germany and has been a favorite at the world's largest beer festival since its beginning in 1810. It's one of the Munich Big Six and is another made by monks to keep their monastery afloat. Methinks it worked.
Gaffel
Located at the same address over 700 years later. Gaffel, famous for its Kölsch, was founded in Cologne, Germany in 1328. Gaffel is derived from an old German word that means a kind of pronged fork. Obviously they knew we'd be craving some brats with our beer.
4. To prepare for Oktoberfest 2020
Oktoberfest in Munich, Germany is the ultimate in drinking adventures. It is not a mere "party" nor is it amateur hour. To be at your best for Oktoberfest 2020, you need to prepare—mentally and physically. You don't just wake up and decide to run a marathon, now do you?
And preparations for Germany's Oktoberfest can only be done with German beer. You need to know how it hits you and how to savor it. You need to know how to prost, how to sing Ein Prosit, and how to hold a 5-pound glass of beer for hours and hours on end. You need to get your gut in gear for the party of the year and what better time to start than German Beer Day?
Want to keep the celebration going until October?
Join us on one of our Oktoberfest packages!
Social Share