Admit it—to attend Oktoberfest in Munich, Germany is totally on your bucket list, isn't it? Well, I have to say you must be one smart cookie.
There's a reason Oktoberfest is on many-a-to do list; actually, there are a lot of reasons. For starters, it's the biggest party on Earth. Yes, even bigger than that time Snoop Dogg performed at your college fundraiser. It's literally millions of people drinking millions of litres of beer and all singing songs that seemingly no one knows the words to.
It's got everything you could want from a vacation/beer festival/honeymoon/Friday night/etc. Literally just fill any occasion into that sentence and Oktoberfest is perfect for it.
Baby shower? Why not! You're procreating! Strike up the band!
It's your birthday? Awesome! Prost to surviving another year on this planet!
Just retired? Perfect! What a place to prepare for sitting around and drinking beer until the end of time!
See what I mean? Oktoberfest is always the answer. 6.3 million people a year can't be wrong. They just can't. Need more convincing? No problem. Here are 8 more reasons you should attend Oktoberfest at least once in your life.
01 | The party starts as soon as you land in Munich.
If you'll be flying into Munich, Germany to attend Oktoberfest, you're in luck—the Munich airport is home to Europe's only full-scale brewery and beer garden. You don't even have to wait until you hit up the Wiesn to get your Oktoberfest on—how stellar is that?
Airbräu is located in the center of the airport in a massive, sort of covered outdoor beer garden space. They serve huge plates of hearty Bavarian food and fabulous beers of their own making. Plus, all the beers have adorable air travel-related names.
Wheels down, drinks up!
02 | Oktoberfest in Munich is the original.
Ain't nobody got time for imposters, am I right?
Oktoberfest in Munich, Germany is the original, the mack daddy, the real deal. I think it goes without saying, but if you're a human being who is an inhabitant of Planet Earth and you're alive and kicking, you already know that Oktoberfest has been replicated the entire world over. And while some offshoots are a decent time, sure, there's nothing like Munich's—the queen mother of them all.
Chances are there's an "Oktoberfest" happening somewhere in your city: at a local brewery, at a German restaurant, or at a completely unrelated spot that simply butchers the meaning of "Oktoberfest". But none of those come even remotely close to the original, the first, the oldest, the longest-surviving, the biggest and the baddest.
When you want to attend an Oktoberfest-sized party, look no further than Oktoberfest itself.
03 | The beer is incredible.
The beer you'll drink when you attend Oktoberfest isn't any ol' lager. It's beer that's been brewed and perfected over centuries and centuries to be as perfect as it is today. It's brewed in the city of Munich, specifically for the festival, and in accordance with a very strict German beer-brewing law—the Reinheitsgebot. There's a beer brewing law that's mandated by the government, y'all—if that doesn't tell you how much they mean business at Oktoberfest, I don't know what will.
The beer at Oktoberfest is not the standard "oktoberfest" style beer you can find in stores. It's a special brew that's made exclusively for Oktoberfest and to only be served at Oktoberfest. It's sweet and smooth and has an alcohol content somewhere between 5.8% and 6.3% depending on which tent you're in.
Also, it's served by the litre. That automatically makes it better.
04 | The food is worth the flight.
The food served at Oktoberfest is some of the best you'll ever have on your travels. Traditional Bavarian food is what you'll eat during a typical day at Oktoberfest and it's hearty, flavourful, and the perfect accompaniment to a litre of lager.
You've got your ½ chickens, your spätzle, wiener schnitzel, pork knuckles, bratwursts, and pretzels so big you could use them as flotation devices. And, when you attend Oktoberfest, that's just for breakfast.
05 | Grown-up dress up!
Let's face it, as grown-ups (a term I use very loosely because, well you know), we don't get to play dress up as often as we'd like. Enter: Oktoberfest!
When you attend Oktoberfest, dressing up in either lederhosen or a dirndl (which one you choose is your prerogative, no judgment) is a huge part of the whole Oktoberfest experience and in doing so you'll actually be in the very sexy majority.
You no longer have to be afraid that you'll be the only person showing up to the party in a costume, because you won't be. Lederhosen and dirndls are where it's at for Oktoberfest attire and, just lemme tell you, they look good on every body.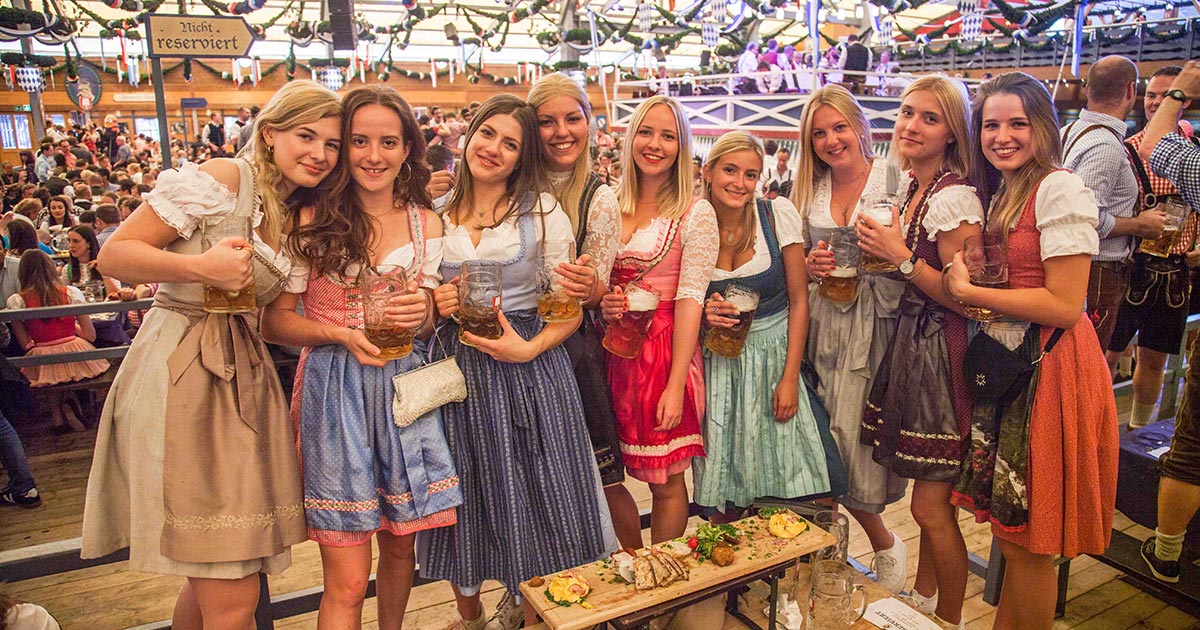 06 | The gemütlichkeit is something you must experience.
Gemütlichkeit is a German term with no direct English translation and it's something you can't fully understand until you experience it. It's defined as a feeling of cosiness and warmth, the feeling you get when you're surrounded by good friends and good cheer, a feeling of comfort and belonging. It's a blanket that covers you when you enter a German beer garden or Oktoberfest beer tent; and it'll put a smile on your face and some warm and fuzzies in your heart.
07 | Munich is awesome.
Germany is a large country and it seems like Berlin gets much of the hype, but Munich and the state of Bavaria is where it's really happening.
Munich is so much more than Oktoberfest and it's all so accessible, user-friendly, entertaining, and delicious. There are historical monuments and sites, world famous beer halls like the Hofbräuhaus, elite sports teams, world class museums like the Deutsches Museum—the world's largest museum of science and technology, and even a bunch of wild and crazy guys surfing on a river if that's what you're into.
Needless to say, should you need a break from Oktoberfest (we get it), your options are plenty.
08 | And so are the day trips.
Besides Munich, the state of Bavaria and the surrounding area is home to a couple more items that are probably on your bucket list. Might as well check off as many as possible on one trip, right?
Popular day trips from Munich include:
First and foremost, a trip to Neuschwanstein castle – 2 hours
Salzburg, Austria, the perfect day trip for Sound of Music lovers – 1.5 hours
The too-cute-to-be-real fairy tale town of Rothenburg ob der Tauber – 2.5 hours
Medieval Nuremburg where some pretty important WWII happenings took place – 2 hours
Berchtesgaden, home of the famous Eagle's Nest – 2 hours
Regensburg, a UNESCO World Heritage Site – 1.5 hours
Ready to finally attend Oktoberfest and check it off your bucket list? Check out all of our Oktoberfest tour options and pick the one that's right for you. Let's do this!
Like this post? Pin it on Pinterest! ↓↓↓
Social Share